[rev_slider_vc alias="header-en"]
Where to buy
SportFresh™ can be bought in several online stores in Europe. SportFresh™ is also available in a number of Intersport stores in the Netherlands.
We are continuously looking for new stores and online shops to have SportFresh™ available for you. If you know a shop, please let us know. If you own a shop and are interested in selling SportFresh™, please contact us.
About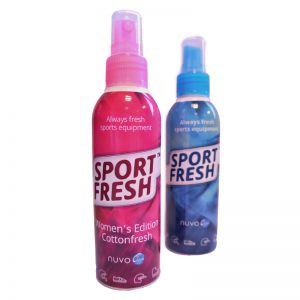 SportFresh™ is a unique and very effective spray to get rid of bad smells in your sporting gear. SportFresh™ does this in a natural way. It uses good bacteria to get rid of the bacteria that produce the bad smell on your sporting gear. It takes on bad bacteria at the source so your sporting gear will start to smell fresh again.
SportFresh™ comes in two variations: Mint and CottonFresh.
How does it work
SportFresh™ removes the bad smell without using perfume or heavy chemicals. SportFresh™ uses the power of nature itself and does not only mask the bad smell. This is done by using bacteria (probiotics), which take on the problem at the source. This way bad bacteria do not have a change to accumulate.
Application
Spray your materials lightly after every sport activity to get the best results. When there is an old and strong smell on your sports gear, several treatments may be necessary to solve the problem.

Soccer
Leg protectors, shoes en goalkeeper gloves become odor-free again.

Running
Your running shoes smell like never before after a spray of SportFresh™.

(Inline) Skating
Skates smell fresh again after a spray of SportFresh™.

Icehockey
Spray your skates and gear and the bad smell will go away like snow for the sun.

Horseback riding
Boots and helmets will smell fresh again after treatment.

Boxing/ Kickboxing/ MMA
Never again smelling boxing gloves.
Contact
Amsterdam area
Witte Vlinderweg 38B
1521 PS Wormerveer
The Netherlands
0031 (0) 75 750 3262
[contact-form-7 id="174″ title="contact"]